Isabel Wilkerson's new release, Caste, is a textbook on racial inequality and the resulting social strata in which it persists in modern day United States. In this sweeping epic, the Pulitzer Prize-winning journalist and author of The Warmth of Other Suns describes the centuries-old hierarchy, investigates its origins and discusses how it is manifested in our present society, the effects reaching from police procedures to presidential elections. With lightning intensity, Wilkerson traces the color lines that links instances of violence around the country and makes comparisons to infractions experienced by disenfranchised groups around the world.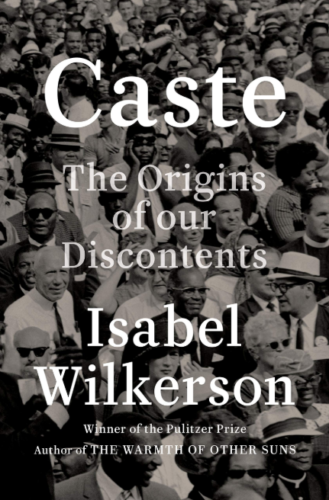 The sweep of her writing draws parallels between brave dissenters in Nazi Germany, American civil rights activists and Dalit leaders in India, compares anthrax poisoning originating from snow melt in the tundra to anger over the destruction of confederate statues and highlights the interpretation of sacred texts which ascribe prejudicial treatment to instructions received from the Christian God and the Hindu counterpart, Manu. In sharing the framework of the Indian caste system and its parallel in the US, the book explains how children in these countries inherit their social status from the parent in the lower tier, typically the mother, and that no matter their accomplishments, it is almost impossible to escape this ranking. This, Wilkerson explains, distinguishes class from caste, so that an individual "may neither earn nor wed his way out", offering dizzying examples of otherwise affluent and celebrated African American men and women who were degraded, humiliated and persecuted, merely because their skin color was often the first and only characteristic others saw.
To read this book is to weep at the sad state of affairs the author describes, to perhaps gaze into the distance and wonder, "how did things get so bad?" but also to thrill with excitement that identification of the problem is the first step to solving it. Indeed Wilkerson's Caste is not without hope for widespread discernment and wakefulness in the future. She highlights the accomplishments of previously alienated individuals who have been given opportunities and in sharing these stories, Wilkerson opines on the tremendous loss to our society in not realizing the potential of an entire marginalized group.
In a world without caste, instead of a false swagger over our own tribe, we would all be invested in the well-being of others in our species, if only for our own survival. A world without caste would set everyone free.
Like The Warmth of Other Suns, Isabel Wilkerson's Caste is a must-read for everyone. This is not a book to be relegated to an obscure shelf as one appealing only to a sub-group. Caste is as resource to be read, studied and reread until the contents are fully understood and the necessary adjustments are made.
Note: I received a free electronic Advanced Reader Copy of Caste from Penguin Random House and Netgalley in order to complete this review. I was not otherwise compensated and my statements above represent my honest opinion about this book.