Have you read the Bible throughout? 
One of the most popular New Year Resolutions (particularly for those with a religious background) is planning to read the Bible in a year. Many times, we don't carry it through however, not because the Bible isn't an interesting read (because it is) but the tendency is to get bogged down in the begats, repeated names thus confusing identities and non-chronological stories. That's also why reference-type books that take Biblical history and cross references it with other media, are so popular. National Geographic has done just that with Who's Who In The Bible. In this fascinating page turner, Author Jean-Pierre Isbouts presents simplified biographical sketches of major Biblical characters alongside historical and present-day maps, art reproductions and timelines in a variety of ways to produce an organized guide to navigating the Bible.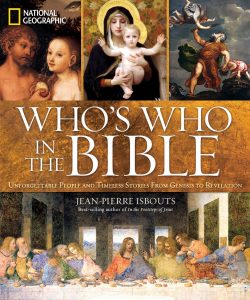 I love that this is a non-denominational text as well and as such, that it includes the Maccabees, which I have long been interested in but have never read in their entirety. 
There are probably a myriad of ways to approach categorizing the Bible and Isbouts organized it in 5 chapters, focused on creation to the exodus, the early patriarchs, Babylonian exile and restoration, the life of Jesus and the growth of early Christianity. Therefore, there are some Biblical books that seem to be out of order in this new organization because their focus matches a different theme from how they are arranged in the Bible- for example the book of Ruth appears after Judges which should place it in Chapter 2, but thematically, it pertains to Jewish life during Babylonian captivity so Isbouts presents it in Chapter 3. This may be a small change but seems to be a very useful tool in analyzing the culture and social background at work in these narratives and helps to understand better the overall picture the Bible presents.
As a lover of art history and someone for whom religious study helps to form my core, I have always prided myself on basing my faith on my evolving understanding while making room for objectivity and as such, Who's Who In The Bible is an enthralling book to study. 
Who's Who In The Bible will make an excellent addition to any budding Bible scholar's library and I was so delighted to receive a complimentary copy from National Geographic Publishers through TLC Book Tours. Thanks to Trish Collins for always giving me such wonderful opportunities.
Publisher Synopsis
About National Geographic Who's Who in the Bible: Unforgettable People and Timeless Stories from Genesis to Revelation
• Publisher: National Geographic; Illustrated edition
• Hardcover: 384 pages
Written by best-selling author Jean-Pierre Isbouts, Who's Who in the Bible is the ultimate reference guide to the men and women in the Bible, featuring more than 2,000 entries spanning Genesis to Revelation. From the author of In the Footsteps of Jesus and The Biblical World comes a vibrant family reference that brings to life the fascinating characters of the Old and New Testaments of the Bible. From the fall of Adam and Eve to Judas' betrayal of Jesus, the key events of the Bible are expressed through the lives of hundreds of people. Told through exquisite art and artifacts, intriguing sidebars, and unique family tree features, this illuminating volume tells the stories of Biblical characters and highlights their greater meaning for mankind. Illustrated with lavish color photography and exquisite historical artwork, this reference runs chronologically, with each person listed by order of appearance.
Purchase Links
About The Author
JEAN-PIERRE ISBOUTS is the author of National Geographic's best-selling books The Biblical World and In the Footsteps of Jesus and the director of Charleton Heston's Voyage Through the Bible. He is a professor at Fielding University in Santa Barbara, CA.
Note: I received a complimentary copy of the book from National Geographic Publishers and TLC Book Tours in exchange for an honest review, which I have tried to provide here. I was not otherwise compensated for this post and my enthusiasm for this book is genuine.